Description
Vogue Green – Long Women Flared Pants / Ladies Bell Bottom Pants (slim!)
Molecule Women Vogue Green – 45062
This long Molecule Women Vogue Green flared pants model has the general looks of typical Molecule cargo pants, but its cut is more fancy. The focus is rather on the look than on it's practical benefits. For once they are low-cut and quite slim (!) and tight from the hips to the knees, then they flare, so be careful with the size! Also the 7 pockets are not like the usual Molecule cargo pockets, they are actually rather small and flat.
Please be aware that this model is not cut wide and baggy (like most Molecule pants) but quite slim! We recommend to accurately check and compare with the given dimensions (see underneath), after all most customers might want to order 1-2 sizes bigger than usual. If you are uncertain, you can contact us anytime (before ordering the wrong size).

| Model Name / ID | Vogue / 45062 |
| --- | --- |
| Type | women pants, long |
| Material | resilient 100% cotton |
| Pockets | 7, no flaps on front pockets |
| Others | traditional buttons, no inner waist-band |
| Note | slim (!), flared |
7 pockets in total:
    2 front pockets

    2 pockets on the back with flap and laces (nice looking gimmick!)

    2 cargo side-pockets with flap, on the left with a press button, on the right with a normal button

    1 more "cargo" side-pocket on the left (underneath the other), also with flap and a normal button
Additional features:
On the front at the waist these pants have 2 buttons underneath and a short zipper.
The belt loops are broad and also have a button each (no function, it just looks fancy). On the pants legs on the outside there is a short lace with a button, which also has no function, but fits to the special look of these fashionable ladies pants.
Like with most Molecule pants, the material / fabric is a durable 100% cotton, solid and soundly processed.
Sizes / measurements:
Standard sizes like S, M, L, XL can vary around the world! Please use our given dimensions to check and compare the sizes before your order.
(Best take a fitting pair of pants from your wardrobe, lay it flat on the floor and compare…)
CAUTION: In exceptional cases, the actual measurements can deviate slightly (maybe 1 inch). Please make a note during your order or contact us if this could cause a problem – we'll be happy to match the measurements with you one by one!
Measurements Molecule VOGUE / 45062
| | | | |
| --- | --- | --- | --- |
| size | A) flat belt / waist | B) length (inseam) | C) total length (outseam) |
| | 14 inch / 36 cm | 32 inch / 81-82 cm | 38.5-40 inch / 98-102 cm |
| | 15,5 inch / 39-40 cm | 32 inch / 81-82 cm | 39-41 inch / 99-104 cm |
| | 16-16,5 inch / 40-42 cm | 32 inch / 81-82 cm | 40,5-42 inch / 103-107 cm |
| | 17 inch / 43-44 cm | 33-34 inch / 84-87 cm | 42-43 inch / 107-109 |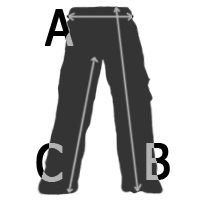 Model names:
Other distributors named this model "himalayan hipster pants", "action/vogue", "low cut pants" or else. The original Molecule manufacturer in Bangkok just gave it a 5-digit number: 45062, so if you compare or look for models / prices on different websites, just look for the number, not the names.
Molecule cargo pants in general:
All Molecule pants are fit for washing machine (60°) and tumble dry (low) friendly. The fabric decreases itself when wearing, so warm ironing is possible but not necessary.
Molecule cargo pants / cargo trousers are high quality pants made of solid cotton fabric with firm seams. The many pockets offer lots of space for many different things or tools. This makes these reliable pants particularly popular amongst travelers, adventurers, people who do heavy work, work with tools, outside or underway, on festivals, holiday, camping, safari, …

Molecule – Cool Fusion Clothings since 1998 Thailand